Ramat Hasharon, Israel:May 2017 R&B, developer of the computer-aided mold design (CAMD) technology used by more than 1,500 customers around the world, announces the release of SplitWorks 2017 Service Pack 0 for SOLIDWORKS 2014 through 2017. This version includes a module for sub-inserts and some general debug and menu upgrades.
Sub Inserts
This new menu is used to create sub inserts with/without a base from an insert (part) in an assembly given a sketch or a set of faces defined by selection or by a color.
For a sketch it must be created on the base of the insert or on a plane (at the part level) and containing one or more closed loops prior to activation of the menu.
For a set of face either select the faces on the fly or prepare a group of faces with the same color.
The sub inserts are created as separate parts, added to the assembly and subtracted from the insert.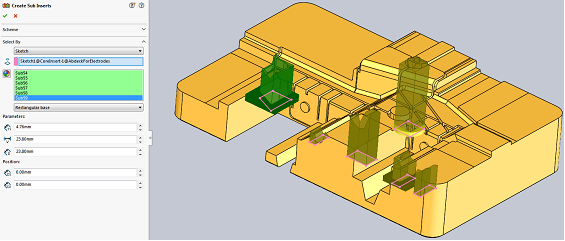 About R&B
R&B, Ltd. develops and markets powerful, easy-to-use; 3D mold design tools for the plastic mold and die industry. The company was created in 1994 as a separate organization through the combination of investments from Regba Kal, Israel's largest mold maker, and Bercom, a leading supplier of computer-aided engineering solutions for mechanical design and finite element analysis. Today, R&B develops the following products: MoldWorks®, SplitWorks®, and ElectrodeWorks™ for SOLIDWORKS and MoldBase™ for CoCreate(PTC) all running within native CAD products, and over 1500 customers. R&B's CAMD solutions provide engineers with intuitive intelligence, powerful functionality, unprecedented ease-of-use and a huge library of commercial components from numerous manufacturers. R&B distributes its products through a network of distributors and resellers worldwide. For more information about R&B solutions, please visit www.RnBUSA.com
MoldWorks, SplitWorks and ElectrodeWorks are registered trademarks of R&B Ltd, SOLIDWORKS is a registered trademark of SOLIDWORKS Corporation. All other brands or product names are trademarks of their respective owners.