SplitWorks 2003 SP1 New User Interface
SplitWorks 2003 SP1 includes significant changes to the user interface, and functionality REVOLUTIONIZING core and cavity splitting technology, allowing even MODIFICATIONS to imported files (i.e. IGES) to be automatically propagated to the inserts.
YOKNEAM, Israel: April, 2003 R&B, developer of the computer-aided mold design (CAMD) technology used by more than 1,000 customers around the world, announces the release ofSplitWorks 2003 SP1 utilizing, new folder technology, dynamic updating and automatic parting line display. SplitWorks can now be used by part designers to automatically (on demand) analyze the manufacturability of parts while mold designers can now incorporate changes to the part (even when based on IGES files) which are down streamed to the core and cavity inserts.
Based on the highly successful Split dialogue preview from the previous versions, SplitWorks now creates its own feature tree under which the core and cavity faces are color categorized into folders. The context sensitive RHM pop up menu within the SplitWorks feature tree contains the following menu types:
Toggles
Automatic Rebuild when switched on SplitWorks

dynamically updates its feature tree categorization after activation of any standard SOLIDWORKS menus on the part.

Show/Hide Open Parting Line(s) shows/hides open parting line(s) and toggles the system to dynamically show or hide open parting line(s) after activation of any
SOLIDWORKS or SplitWorks menus.
Show/Hide Main Parting Line shows/hides
the main parting line and toggles the system

to dynamically show or hide the main parting

line after activation of any SOLIDWORKS or
SplitWorks menus.

Automatic Parting Line Rebuild

when
switched on SplitWorks dynamically updates
the parting lines after activation of any
SOLIDWORKS or SplitWorks menus on the part.
Actions
Create New Group

to create new folders.
Move to Core/Cavity… moves faces from
folder to folder. This menu exists on both the
folder and face level and can also be activated
from a graphic selection.

Create/Update Surface

creates the knitted surface the faces within a specific folder from the part.
The rest of the SplitWorks menu system includes Plug Holes, Loft, Create Solid Insert and theElectrodeWorks option is adjusted to work within the new SplitWorks taking into account the multi-body features of SOLIDWORKS 2003.
Create Surface
Before Create Surface has been activated the Automatic Rebuild option allows part designers to analyze (automatically or on demand) the moldability of the part during its design and modification, without having to possess specific mold manufacture know how. The mold designer will use this feature to help modify the part to correct undercuts, draft angles etc.
Before and after screen shots. With SOLIDWORKS we changed the draft angles – SplitWorks updated colors and parting line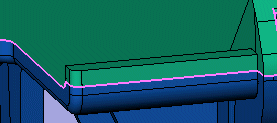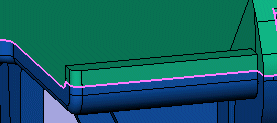 Update Surface
ANY TIME after a parting surface has been created (possibly the core and cavity inserts as well),ANY change to the part (including READING in of a new IGES file) will update the relevant SplitWorks feature tree folder(s). Update Surface initiates a rebuild of the knitted surface(s) and propagates the changes down stream. Changes not affecting the technology of the splitting (i.e. do not change the parting lines or shutoffs) will be correctly downsteamed, whilst other changes allow the mold designer to modify the part (through the SOLIDWORKS roll back function) to solve the rebuild errors he might encounter.
Before and after screen shots. Modified the IGES file and the inserts where modified AUTOMATICALLY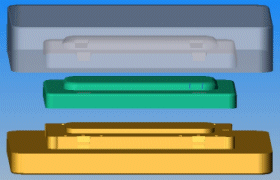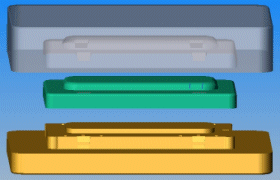 Availability
SplitWorks 2003 SP1 is available as a download to all current SplitWorks subscription service customers.
About R&B

R&B, Ltd. develops and markets powerful, easy-to-use; 3D mold design tools for the plastic mold and die industry. The company was created in 1994 as a separate organization through the combination of investments from Regba Kal, Israel's largest mold maker, and Bercom, a leading supplier of computer-aided engineering solutions for mechanical design and finite element analysis. Today, R&B has seven products: MoldWorks®/SplitWorks®, MoldCreator™, MoldBase3D™, MoldMaker™, MoldDesign™ and MoldBaseAdvisor™ all running within native CAD products, and over 1000 customers. R&B's CAMD solutions provide engineers with intuitive intelligence, powerful functionality, unprecedented ease-of-use and a huge library of commercial components from numerous manufacturers. R&B distributes its products through a network of distributors and resellers worldwide. For more inform ation about R&B solutions, please visit www.RnBUSA.com

MoldWorks and SplitWorks are registered trademarks of R&B Ltd, SOLIDWORKS is a registered trademark of SOLIDWORKS Corporation. All other brands or product names are trademarks of their respective owners.