MoldWorks 2006 SP1 – Introducing innovative Heat Exchange technology
MoldWorks 2006 SP1 for SOLIDWORKS 2006 adds a heat exchange module, component healing functionality and screw rule tables.
Petah Tikva, Israel: February, 2006 R&B, developer of the computer-aided mold design (CAMD) technology used by more than 1,500 customers around the world, announces the release ofMoldWorks 2006 SP1 for SOLIDWORKS 2006 which includes a new unique heat exchange module, component healing when changing plate thickness and user defined screw rule tables determining hole parameters and screw engagement rules.
Heat Exchange
Cooling cycles are defined by 2D and/or 3D sketches.

.

Initial

preview of the cycle includes default components, collision checking and boundary extension of the pipe

according to advanced analysis.

Cycle PropertyManager with pipe segment browser and dynamic feedback to modify extension boundary, pipe components and pipe diameters.
Components include plugs, connectors, baffles and o-rings from all supported catalogues.
A Heat Exchange folder including full description of the cooling cycles is created in theMoldWorks FeatureManager allowing extensive modification options at each level (cycle, pipe, component).
Sketch editing and

creation

with dynamic pipe preview to modify or create cooling cycles on the fly.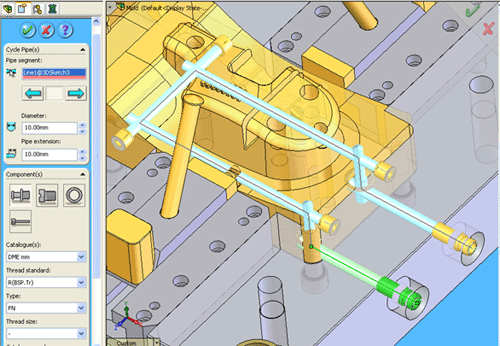 Component Healing
Activation of the recalculate button after major changes to the mold (i.e. changes to plate thickness or addition of plates), will now automatically correct the components affected according to their standard definition i.e. if a plate has been added then an ejector pin passing through the new plate will be lengthened accordingly if the new length is less then the maximum for the specific ejector diameter. Components which have not been healed will be highlighted in red during the recalculate process.
Screw Rule Tables
You can now define specific screw hole and screw rule behavior through an editable EXCEL file definition, which MoldWorks will automatically compile after change.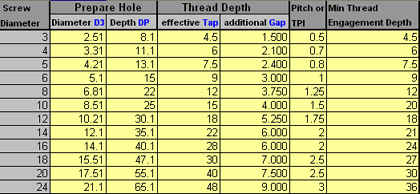 Excel rule for mm catalogs
Availability
MoldWorks 2006 SP1 is available as a download to all current MoldWorks subscription service customers.
About R&B

R&B, Ltd. develops and markets powerful, easy-to-use; 3D mold design tools for the plastic mold and die industry. The company was created in 1994 as a separate organization through the combination of investments from Regba Kal, Israel's largest mold maker, and Bercom, a leading supplier of computer-aided engineering solutions for mechanical design and finite element analysis. Today, R&B supports several products: MoldWorks®/SplitWorks® and ElectrodeWorks®, MoldMaker™, and MoldBaseAdvisor™ all running within native CAD products, and over 1500 customers. R&B's CAMD solutions provide engineers with intuitive intelligence, powerful functionality, unprecedented ease-of-use and a huge library of commercial components from numerous manufacturers. R&B distributes its products through a network of distributors and resellers worldwide. For more information about R&B solutions, please visit www.RnBUSA.com

MoldWorks and SplitWorks are registered trademarks of R&B Ltd, SOLIDWORKS is a registered trademark of SOLIDWORKS Corporation. All other brands or product names are trademarks of their respective owners.