MoldWorks 2003 SP1 adds more functionality and a new catalogue
MoldWorks 2003 SP1 for SOLIDWORKS 2003 adds automatic ejector trim, lifters, component duplicate and the MUD catalogue.
YOKNEAM, Israel: June, 2003 R&B, developer of the computer-aided mold design (CAMD) technology used by more than 1,000 customers around the world, announces the release ofMoldWorks 2003 SP1 for SOLIDWORKS 2003 which includes new functionality a new mold catalogue (MUD), and component folders, utilizing the new folder option within SOLIDWORKS 2003.
New Functionality
Lifters

can now be created directly through a standard menu.

Ejector trimming

is now automatically performed either up to the exact surface of the insert or orthogonally up to the first penetration point.

Components which penetrate an insert can be automatically duplicated to all the instances of the insert through an option on the component positioning dialogue.
Component folders are created in order to compress the FeatureManager design tree.
Renaming of components does not affect the MoldWorks data structure, so that MoldWorks can now work with any PDM system without fear of corruption.
MUD
This catalogue has now been incorporated as a standard catalogue.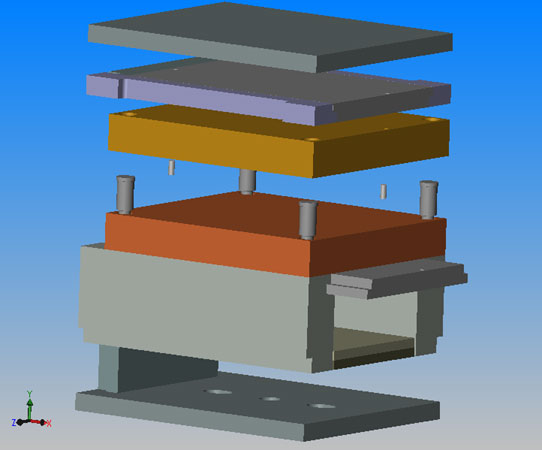 Exploded view of MUD catalogue for U' Style Frames size 12-14UF
Availability

MoldWorks 2003 SP1 is available as a download to all current MoldWorks subscription service customers.
About R&B

R&B, Ltd. develops and markets powerful, easy-to-use; 3D mold design tools for the plastic mold and die industry. The company was created in 1994 as a separate organization through the combination of investments from Regba Kal, Israel's largest mold maker, and Bercom, a leading supplier of computer-aided engineering solutions for mechanical design and finite element analysis. Today, R&B has seven products: MoldWorks®/SplitWorks®, MoldCreator™, MoldBase3D™, MoldMaker™, MoldDesign™ and MoldBaseAdvisor™ all running within native CAD products, and over 1000 customers. R&B's CAMD solutions provide engineers with intuitive intelligence, powerful functionality, unprecedented ease-of-use and a huge library of commercial components from numerous manufacturers. R&B distributes its products through a network of distributors and resellers worldwide. For more information about R&B solutions, please visit www.RnBUSA.com

MoldWorks and SplitWorks are registered trademarks of R&B Ltd, SOLIDWORKS is a registered trademark of SOLIDWORKS Corporation. All other brands or product names are trademarks of their respective owners.